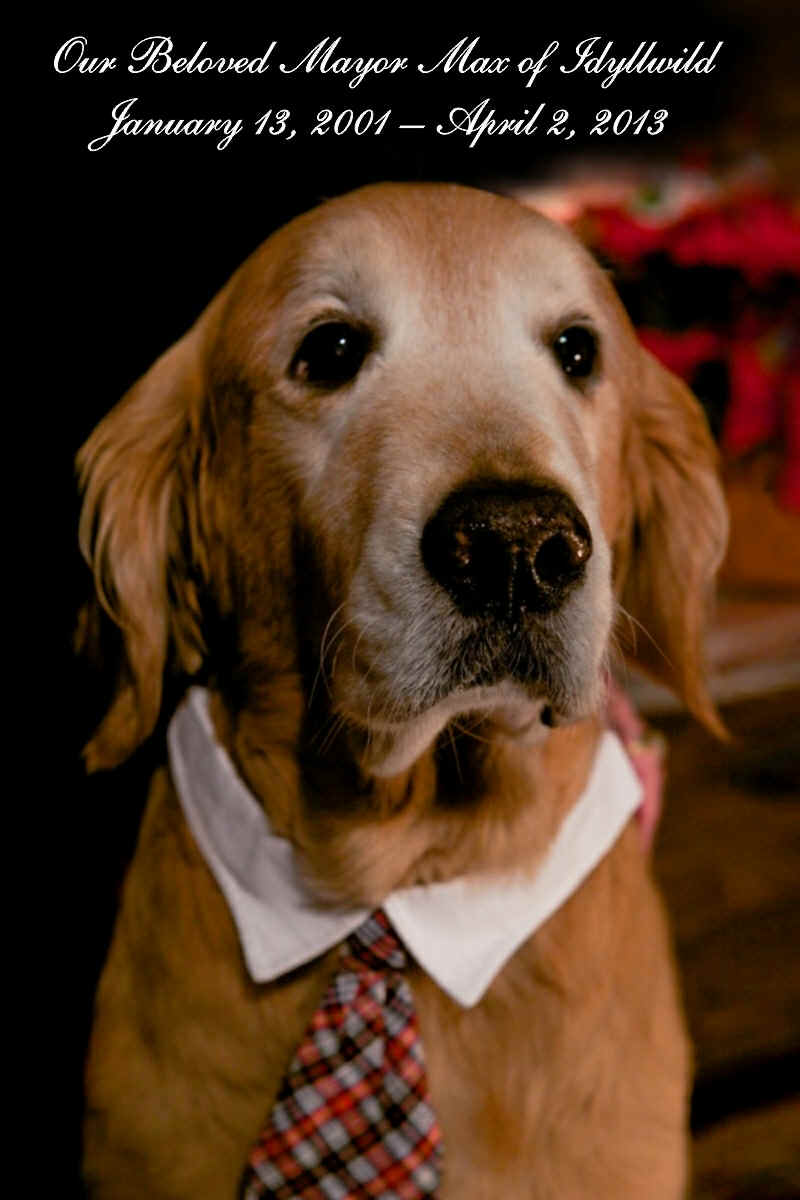 Photo by Karen Lifshey-Shapiro
April 9, 2013
The Celebration of Life Memorial Service for our beloved Mayor Max is being held this Sunday, April 14, 2013, at 1:00 PM at Idyllwild Pines (address below) in their McNeil Hall building. It would mean a lot to us and to Mayor Max if you could attend. Seeing you in town, giving us hugs, flashing your car lights or waving to us as you drive by, your cards, emails, Facebook communications, and calls are, one and all, helping us tremendously with our grieving. I know that seeing you at the service will also help us immensely if you can make it. If you canít, thatís completely fine, and we understand. Mayor Max loves you no matter what.
This is also a PET-FRIENDLY memorial service, so your lovely, friendly pets are also entirely welcome. Max really liked to see pets at events, even the catsónot kidding! I also plan to display all of Maxís Staff Toys, including Mini Me, Medium Me, Rocky, all of the PAC-RACs (Maxís Political Action Committee of Raccoons in Support of Mayor Max of Idyllwild), and others.
This is a very casual service, and no dressing up is required at all. In fact, Max would be delighted if you would wear comfortable clothes that donít mind dog hair. We will also have the facility heated, but if itís cold that day, please bring a coat or sweater, just in case thereís a chill.
We will have very light refreshments at the service: cookies for all, Hawaiian Punch for the children, and coffee for the adults. Growing up, this is what we had at our church after Sunday school, so it just sort of makes me happy to think about it, so thatís what weíre having.
We will have some darling videos and photos of Max, and anyone who wants to say something will be able to do so, though donít feel obligated, of course. I plan to talk about Max and the arrival of Mayor Max, II (the Second).
We are preparing a remembrance package for everyone that will include Mayor Maxís March ad recap report which I did not run in the Idyllwild Town Crier because it would have come out the day after his death. But I do want you to know Maxís accomplishments for March, so you will have a copy of it as well, along with a few other photos.
There will be plenty of parking at all of the Idyllwild Pines parking lots throughout the property. We will have handicapped parking right at the building itself. From the various parking lots, itís just a very short walk to McNeil Hall. We will have parking attendants to help you locate a close-by parking space and to show you the way to the McNeil Hall building.
Mini Me is setting up one table where any children or adults that want to be sworn in as Deputy Mini Mayors of Idyllwild to help Mini Me continue Mayor Maxís charter to convey unconditional love and to do as many good deeds for others as possible, can be sworn in to help continue on with Mayor Maxís dream. In this interim period, Mini Me would love to have help from as many deputies as possible.
Thank you for all of your love and support. Mayor Max still loves you very much, and he always will.
Love always,
Phyllis Mueller
Glenn Warren
Mayor Max (in spirit)
Mitch Minert
Mini Me (Interim Mayor of Idyllwild)
Medium Me
Rocky and the PAC-RACs
All of the Other Staff Toys
Idyllwild Pines Camp & Conference Center
26375 CA-243
Idyllwild, CA 92549
(951) 659-2605
© 2012-2014 Office of the Mayor of Idyllwild, California. All rights reserved.